Schwartz's reagent – Reagent of the month August
Zirconocene chloride hydride (Schwartz's reagent, Figure 1) is an organozirconium compound used in a wide range of organic reactions.

Preparation of Schwartz's reagent
Schwartz's reagent was first prepared by Wailes and Weigold (https://doi.org/10.1016/S0022-328X(00)80281-8) and can be prepared from zirconocene dichloride and lithium aluminium hydride. This reaction can produce dihydridozirconocene as a side product, which is readily converted to Schwartz's reagent by washing with dichloromethane (Figure 2). It commercially available, and relatively shelf stable when stored under an inert atmosphere.

Reactivity
While Schwartz's reagent is often drawn in its monomeric form, X-ray crystallography of the crystalline reagent shows that it exists in its dimeric form (Figure 3) which has to dissociate first before the reactions can take place. Coordinating solvents such as THF help with this dissociation and thus improve reaction rates of the hydrozirconation reactions.

It can be used for various hydrozirconation reactions on carbon-carbon double or triple bonds resulting in the corresponding alkyl or vinyl organozirconium species (Figure 4), as well as C=X hydrozirconations.

One noteworthy example of C=X hydrozirconation is a reduction of amides to amines and aldehydes (Figure 5, https://doi.org/10.1021/ja066362). This reaction proceeds faster than other hydrozirconation reactions and can be used for selective amide cleavage even in the presence of other reducible groups such as nitriles, esters, or C=C double bonds.

Application in synthesis
The organozirconium species obtained by hydrozirconation of CC double or triple bonds can be used as nucleophiles for a wide range of electrophilic substrates. The addition of acids such as HCl produces an alkane or alkene by neutralization of the organozirconium species and DCl can be used for isotopic labelling. Halogens such as Br2 and I2 can be used to introduce the halogen atom to the zirconium position and treating the organozirconium species with acyl chlorides results in ketone formation (Figure 6, doi:10.1021/ja00833a048).

This halogenation strategy was utilized in the total synthesis of a macrolide antibiotic (–)-virginiamycin M2 (Figure 7, https://doi.org/10.1021/jo202119p).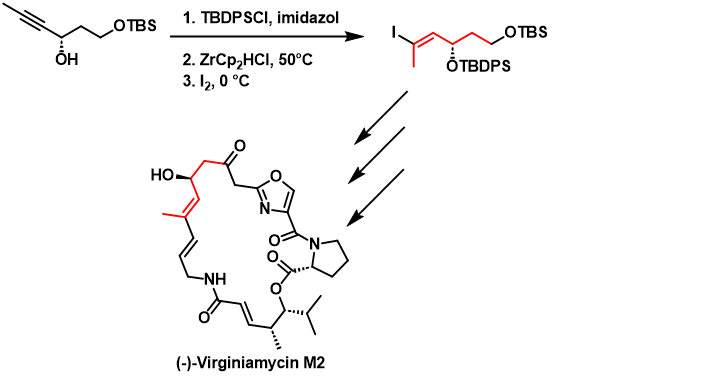 Organozirconium compounds also undergo carbonylation under carbon monoxide atmosphere forming acylzirconium species which can be used in Pd catalysed crosscoupling reactions ( Figure 8, doi: 10.1039/b110983a).

---
If you are interested in organic reagents, you can find more articles here.
Santiago Lab is offering custom synthesis and contract research services in the fields of organic, bioorganic and medicinal chemistry.