Laboratory and analytical instruments at Santiago Lab
State-of-the-art laboratory equipment and analytical instruments are an essential part of Santiago lab. And since many clients often ask us about this topic, we decided to write a small article to address this topic. In this article, you can find about both our analytical instruments as well as other instruments that we are regularly using.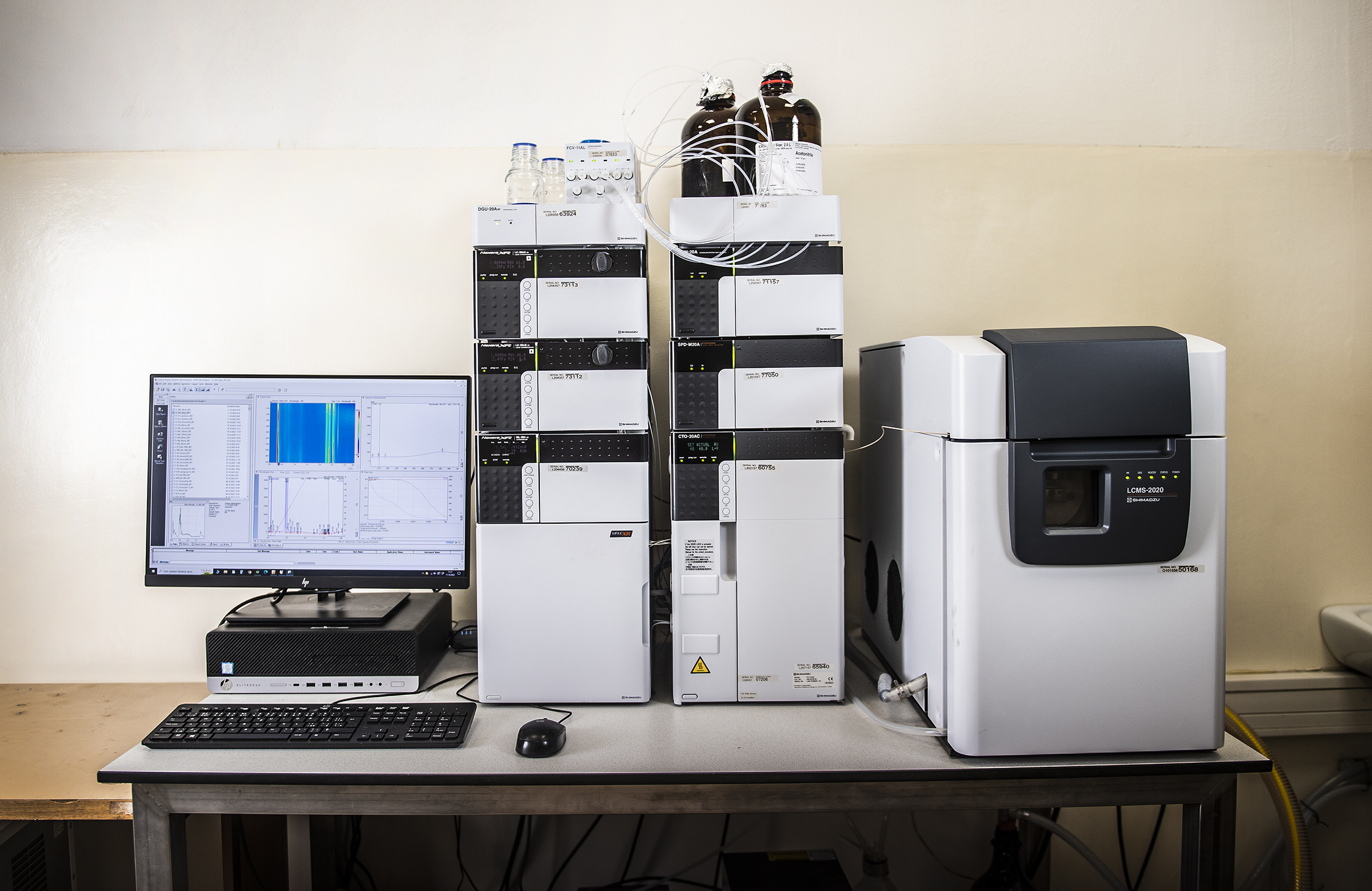 LC-MS (Shimadzu LCMS-2020)
Santiago owns and, daily uses the LCMS-2020 system of Shimadzu company for fast and efficient analysis of reaction mixtures and products. The system can operate in normal (silica gel, organic solvents) or inverted mode (C18, water-based mixtures of solvents). MS system is equipped with a single quadrupole. The instrument combines the excellent compound selectivity that is a feature of the mass spectrometer with significantly enhanced total productivity – from method development to analysis.
Automatic flash chromatography systems (ECOM)
The company currently owns four fully automatic flash chromatography systems that allow the purification of reaction mixtures. These systems can be used to purify mg up to 20 g of product and run in normal or inverted mode. Coupled together with highly efficient semi-preparative and preparative columns, we are able to purify even the most complicated reaction mixtures.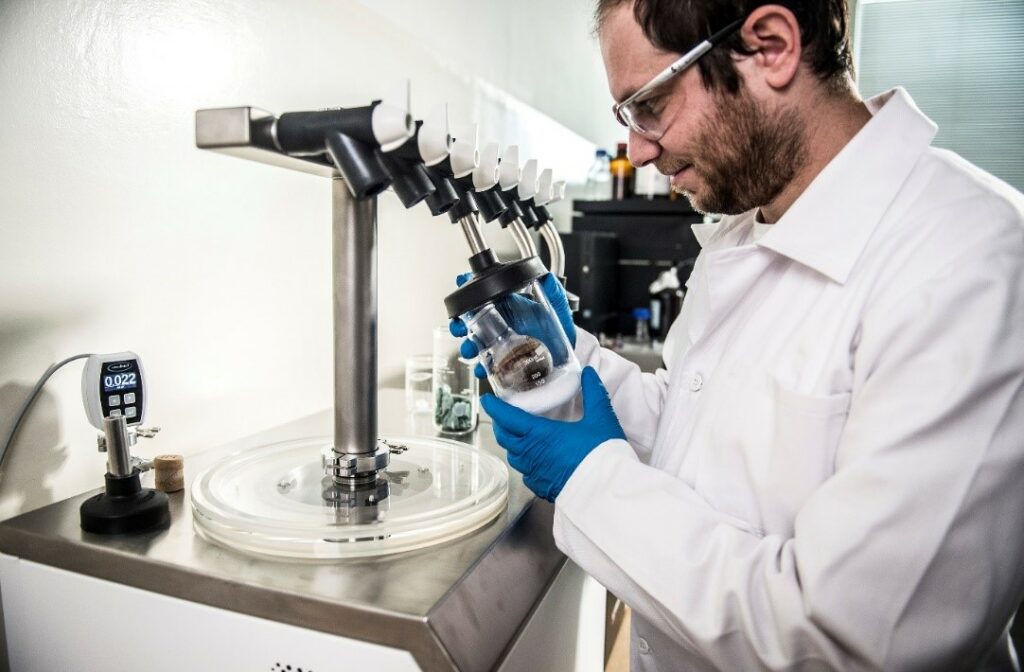 Lyophilizer (Gregor Instruments)
Lyophilizer (Gregory instruments, model L4-110, ) allows efficient and safe freeze-drying of sensitive compounds (such as nucleoside triphosphates) at temperatures down to -110 °C. This significantly extends shelf life and makes it more convenient for transport worldwide.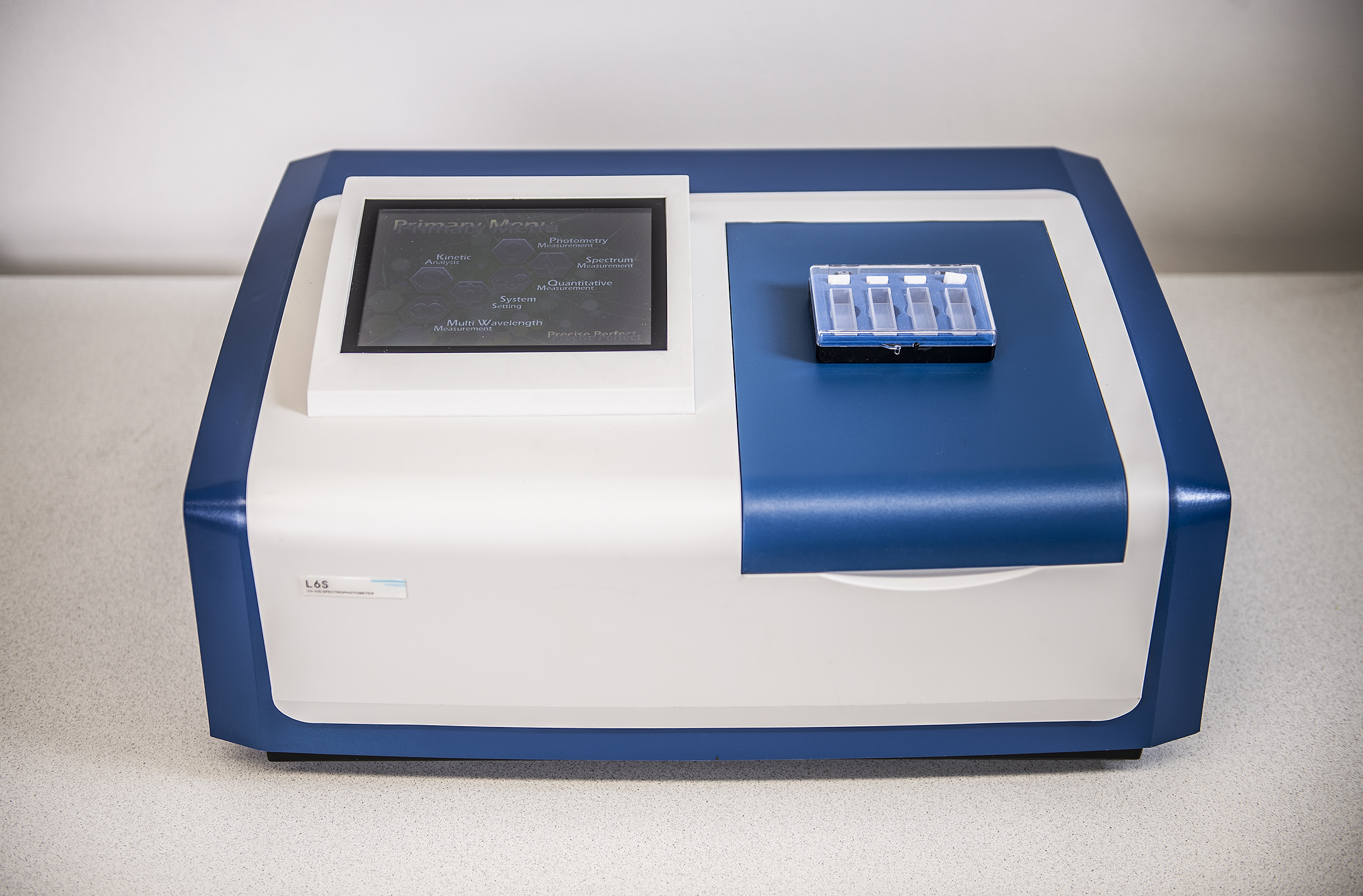 UV-VIS Spectrophotometer
For the exact analysis of prepared nucleoside triphosphates, we are using a UV-VIS spectrophotometer. The operating range is from 190 to 1200 nm wavelength.

ReactoMate ATOM System (Asynt)- 20 L glass reactor
Santiago lab recently purchased a brand new 20 L jacketed reactor from company Asynt that proved to be very useful, especially in the scale-up synthesis. Designed with the needs of process chemistry laboratories in mind, the ReactoMate ATOM support is suitable for all sizes of vessels up to 30,000 mL within a compact footprint and with all-around visibility and access. The ATOM support features an innovative design allowing to easily adjust the height of the reaction vessel with just one hand.  With a chemically resistant build and NEW overhead stirrer support, the ATOM support allows reaching pilot scale reactions all within the footprint of a benchtop system.
PRESTO A40 Process system (Julabo)
To make the most out of our new jacketed reactor, we also purchased the cooling/heating system PRESTO A40 from Julabo. This air-cooled piece of equipment allows us to perform a reaction within the working temperature range from -40 °C to +250 °C.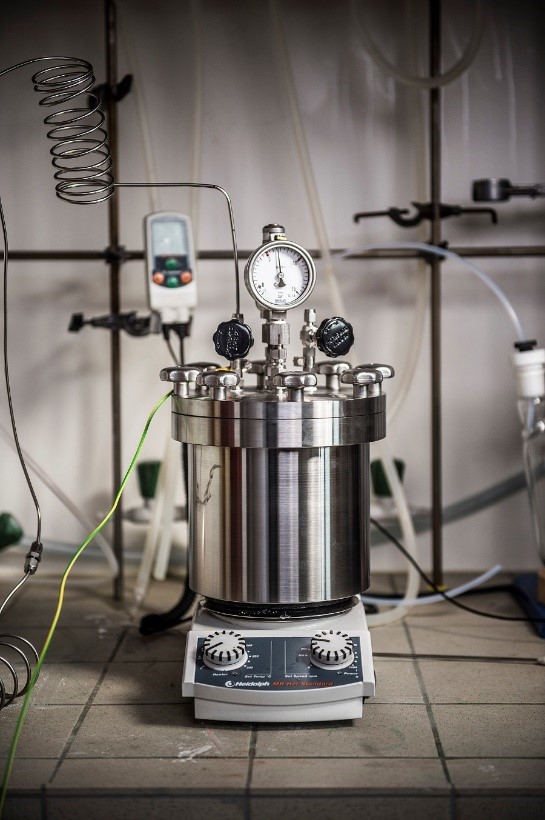 2.5 L stainless steel reactor
For our scale-up lab, we obtained a brand-new autoclave (2.5 L volume) for performing reactions under high pressure. The maximum working pressure is 15 bar. This reactor has recently been used for the hydrogenation step in the total 5 kg synthesis of the small natural compound.

3D printer Prusa i3 MK3S+
For the development of new laboratory equipment and spare parts, we are using 3D printer Original Prusa i3 MK3S+. To ensure the stability of printed equipment, we have the possibility to print using different polymers (PLA, ABS, PETG, ASA).
Environmentally friendly equipment
At Santiago lab, we are taking protecting our environment very seriously. Therefore, we invested a lot in "green" solutions for our lab, including Julabo chillers for rotary evaporators and unique waterless condensers from Asynt. Because this topic is very important for us, we will write more about it in the near future.
Santiago lab is here to help you
Santiago lab is here for clients who want not only to outsource their research but also make serious progress in their scientific needs. We believe that you will be satisfied with our services. Here you can read more about our custom synthesis or contract research. Our instruments can also be effectively used in scale-up projects. 
We are always thrilled to help clients with their exciting research. If you want to know more about our experience as a contract research organization or if we can help you with your projects, write an email to Krystof Sigut on krystof.sigut@santiago-lab.com or reach him on the phone +420 776 750 591.
Drop us a line
We will respond as soon as possible, typically within 48 hours.